Find Homes for Sale Zoned to Best Sugar Land Schools
If you want a list of the current homes for sale zoned to Sugar Land's top-rated schools,
then sign up below for an email list with photos, maps, and more!
---
Important General Information About Schools
One thing that is very challenging for people to understand about the Houston-metro area is that some schools districts are very large and can have BOTH high-rated AND low-rated schools within the SAME school district. Katy ISD has over 65 schools and Fort Bend ISD (for Sugar Land  TX) has over 73 schools! Naturally, with that many schools, some schools are going to be excellent and some may be low-performing. Of course, some school districts are better than others, but a home can be zoned to low-rated schools even if it is in a highly rated school district like Katy ISD. This means that you can't focus on just a school district in your home search….you need to focus on the individual schools. 
Also know that school ratings can and will fluctuate from year to year…generally moving up or down one point each year. For example, Austin HS was rated a 8 in 2017 but moved up to a 9 (on greatschools.org) in 2018. Some schools stay the same rating from year to year, but some may move up or down.
Source: https://www.schooldigger.com/go/TX/districtrank.aspx
Another thing to know…a neighborhood may be zoned to multiple elementary, middle, and high schools. So you may want to live in large neighborhood like First Colony, but just know that your home may be zoned to one of seven elementary schools, two middle schools, and two high schools…depending on which part of First Colony you live. Or if you live in Greatwood (awesome neighborhood!), you will have Sugar Land address but will be zoned to Lamar Consolidated ISD (which is rated higher than Fort Bend ISD overall and which has excellent schools).
Also know that school zones can and will change over time….especially in new home developments. And if a new neighborhood (like Riverstone or Sienna Plantation) builds out quicker than schools are added, then you could be rezoned multiple times…and maybe to lower-performing schools than originally expected. So be very careful about choosing homes based on their current school zones! (This is why you need a local area real estate expert, like Sheila Cox,to find the right home.)
---
Why Schools Are Important – Even If You Don't Have School-Aged Children
People typically move to the Sugar Land area because of the schools. So even if you do not have school-aged children, you should try to buy a home zoned to a high-performing school. This is because the school ratings can have an impact on long-term home values. And there also seems to be a correlation between the number of sex offenders in an area and the rating of the schools…the lower the school rating, the higher the number of sex offenders. This is important because studies show that a large number of sex offenders is an indicator of higher crime rates and lower property values.
Read more:
>> There Goes the Neighborhood
>> Sex offender data threatening home values
---
About Fort Bend ISD
Sugar Land schools are known to be excellent. Over half of the 33 elementary schools have a score of 9-10 with Greatschools.org and, likewise, six of the fourteen middle schools score a 9-10 as well. There are eleven high schools serving the area and two score 9s  and two score 8s. Sugar Land is part of Fort Bend ISD which is an award-winning school district but does not rate as highly as the nearby Katy and Lamar Consolidated ISDs. This is because Fort Bend ISD is larger than those ISDs and includes many non-Sugar Land schools (located in nearby Houston). 
Sugar Land schools are (mostly) in the Fort Bend Independent School District (get more info). This map shows the schools by color codes according to Greatschools.org. By this you can see where the highest scoring schools are located.
"The GreatSchools Rating is on a 1-10 scale, where 10 is the highest and 1 is the lowest. Ratings are broken down into three categories: ratings 1-3 signal that the school is "below average," 4-7 indicate "average," and 8-10 are "above average." Ratings for these categories are shown in red, yellow and green (respectively) to help you see the distinctions."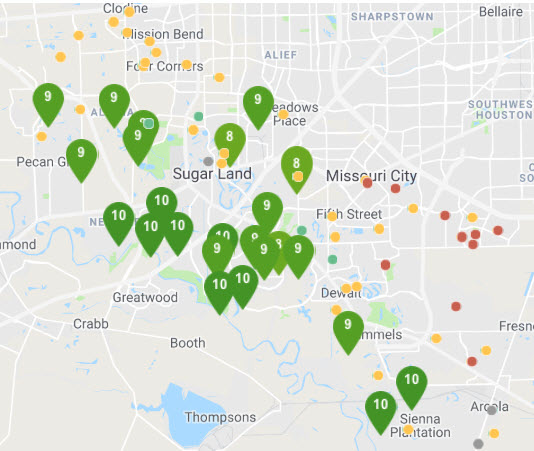 Source: https://www.greatschools.org
You can view various school zone maps on the FBISD website:
Some Sugar Land schools fall into Lamar Consolidated Independent School District (West Fort Bend)..which is rated higher than Fort Bend ISD (on schooldigger.com) by the way. You can view school zone maps for Lamar Consolidated ISD at https://www.lcisd.org/about/school-zone-map
NOTE: Some people confuse Lamar Consolidated High School (one of the lowest ranking high schools in the area) with Lamar Consolidated ISD.  Please don't make this mistake. Although Lamar Consolidated HS is a low-performing school, most of the schools in the Lamar Consolidated ISD school district, that are zoned to Sugar Land homes, are very highly-rated! You must look at each neighborhood and school individually.
>> See a list of Sugar Land Private Schools
---
See a chart of all the Sugar Land area schools
with Ratings and Demographics by downloading the 170+ page
Sugar Land Neighborhoods Guide