Find Homes for Sale Zoned to Best Sugar Land Schools
If you want a list of the current homes for sale zoned to Sugar Land's top-rated schools,
then sign up below for an email list with photos, maps, and more!
---
Sugar Land schools are known to be excellent. Over half of the 33 elementary schools have a score of 9-10 with Greatschools.org and, likewise, six of the fourteen middle schools score a 9-10 as well. There are eleven high schools serving the area and two score 9s  and two score 8s. Sugar Land is part of Fort Bend ISD which is an award-winning school district but does not rate as highly as the nearby Katy and Lamar Consolidated ISDs. This is because Fort Bend ISD is much larger than those ISDs and includes many non-Sugar Land schools (like nearby Houston). 
Sugar Land schools are (mostly) in the Fort Bend Independent School District (get more info). This map shows the schools by color codes according to Greatschools.org. By this you can see where the highest scoring schools are located.
"The GreatSchools Rating is on a 1-10 scale, where 10 is the highest and 1 is the lowest. Ratings are broken down into three categories: ratings 1-3 signal that the school is "below average," 4-7 indicate "average," and 8-10 are "above average." Ratings for these categories are shown in red, yellow and green (respectively) to help you see the distinctions."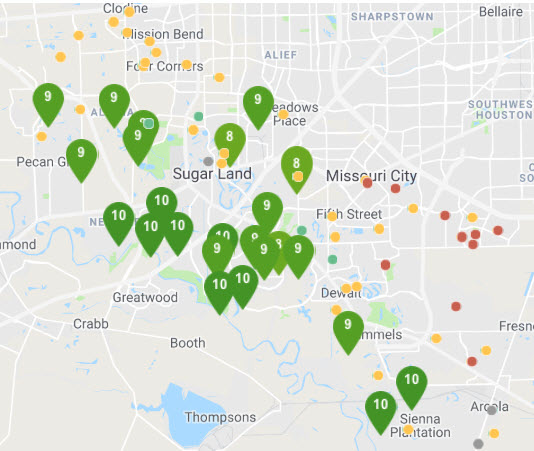 Source: https://www.greatschools.org
Most Sugar Land schools are in the Fort Bend Independent School District, but a few fall into Lamar Consolidated Independent School District (West Fort Bend). The following graph shows the ranking of the Fort Bend County school districts on SchoolDigger.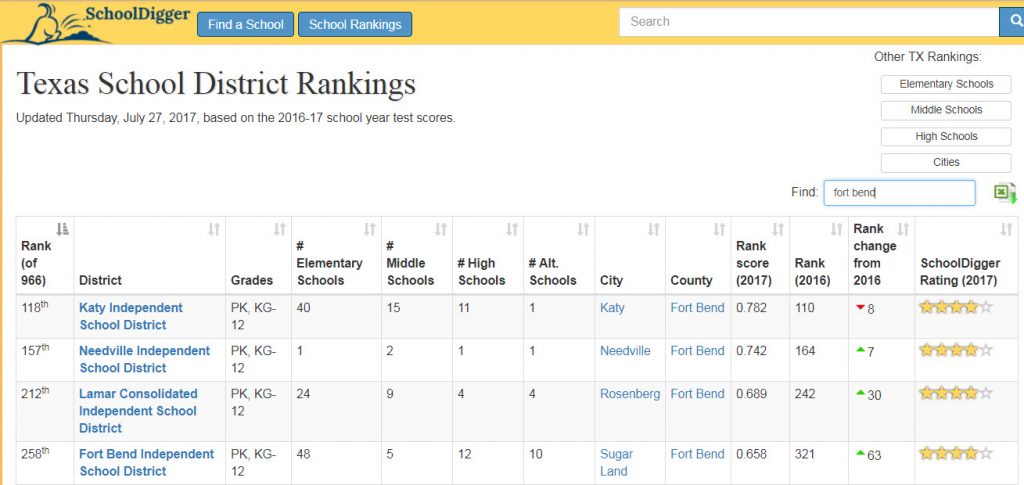 Source: www.schooldigger.com
You can view various school zone maps on the FBISD website:
>> See a list of Sugar Land Private Schools
---
See a chart of all the Sugar Land area schools
with Ratings and Demographics by downloading the 170+ page
Sugar Land Neighborhoods Guide