Sugar Land vs Katy Overview
Many people moving to the Houston area are told that two of the best places to live are Katy vs Sugar Land.  They then have a hard time deciding between the two…because they are both great places to live! Plus, they are very similar in types of homes available, good schools, demographics, etc. However there are some slight variations that I will try to point out in this report. Please note that these are my observations only and are not scientifically proven and may not even be totally accurate. This is just what I have observed.
| | | |
| --- | --- | --- |
|   | Katy | Sugar Land |
| Most Affordable Homes | √ | |
| Best Schools* | √ | √ |
| Best Tax Rates | | √ |
| Best Commute to Galleria | | √ |
| Best Commute to Downtown | | √ |
| Best Commute to Energy Corridor | √ | |
| Best Commute to Med Center | | √ |
| Best Commute to Airports | | √ |
| Lots of Newer Homes Available | √ | |
| Lowest Crime Rate* | √ | √ |
| Best Amenities* | √ | √ |
| Best Shopping | | √ |
*NOTE:
Both areas have high-scoring schools and low-scoring schools…it depends
on the neighborhood…and sometimes the side of the neighborhood. The same goes
for crime rates and amenities.
---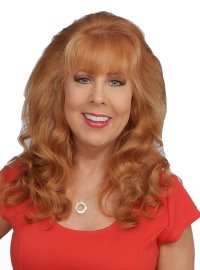 In my expert opinion…
"Katy vs Sugar Land usually boils down to this:
–If the shortest commute time is what's important to you, then start with Sugar Land…but be prepared for older homes if you want great schools.
–If a newer home zoned to excellent schools is what's important to you, then start with Katy…but be prepared for a longer commute."
—Sheila Cox, REALTOR and Local Area Expert
---
Explanation of Areas
The first thing to know about Katy vs Sugar Land…these are huge areas! Sugar Land's population is somewhere around 118,000 and the Greater Katy Area is 200,000-300,000 (although no one seems to know for sure).
Not all parts of Sugar Land are equal. Some neighborhoods are zoned to high-scoring schools and some are not. The older Sugar Land neighborhoods have tax rates around 2.2-2.6 but the newer neighborhoods can be up to 3.6. Some neighborhoods have lots of amenities while the older neighborhoods do not. (However, Sugar Land has excellent city amenities including a large city pool.) The newest Sugar Land neighborhoods are not, necessarily, zoned to the highest-scoring schools. If you want high-scoring schools in Sugar Land, you may need to buy an older home (1980s-1990s) and do some light updating (paint, light fixtures, and faucets). So you can't just look at the city overall and claim that all parts of the city are the same…because they are not. (This is why you need a local area expert!)
The same goes for Katy. Different areas of Katy have different neighborhoods with different schools, tax rates, prices, etc. Generally speaking, you can buy a bigger and newer house in Katy zoned to excellent schools, for less money than Sugar Land. So if you want high-scoring schools and a newish home, then you need to start in Katy (but be prepared for a longer commute time).
City of Sugar Land
Approximate population: 119,000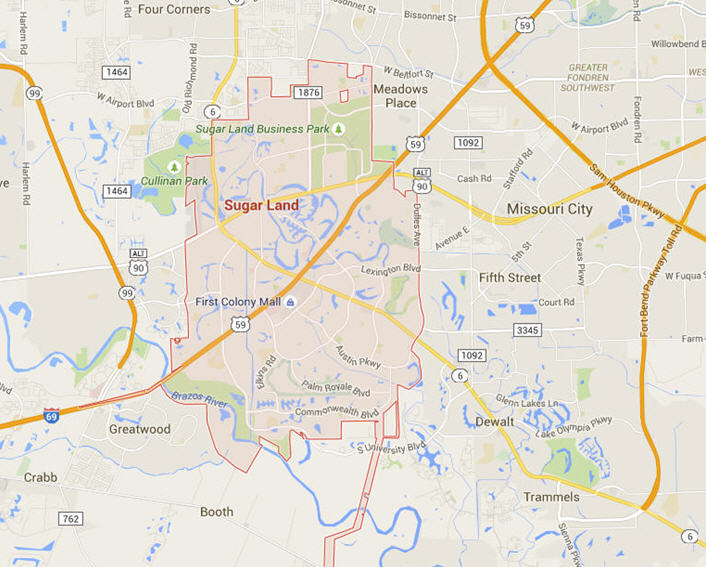 NOTE: This map needs a revision due to the recent incorporation of New Territory and Greatwood into the City of Sugar Land.
Sugar Land Neighborhoods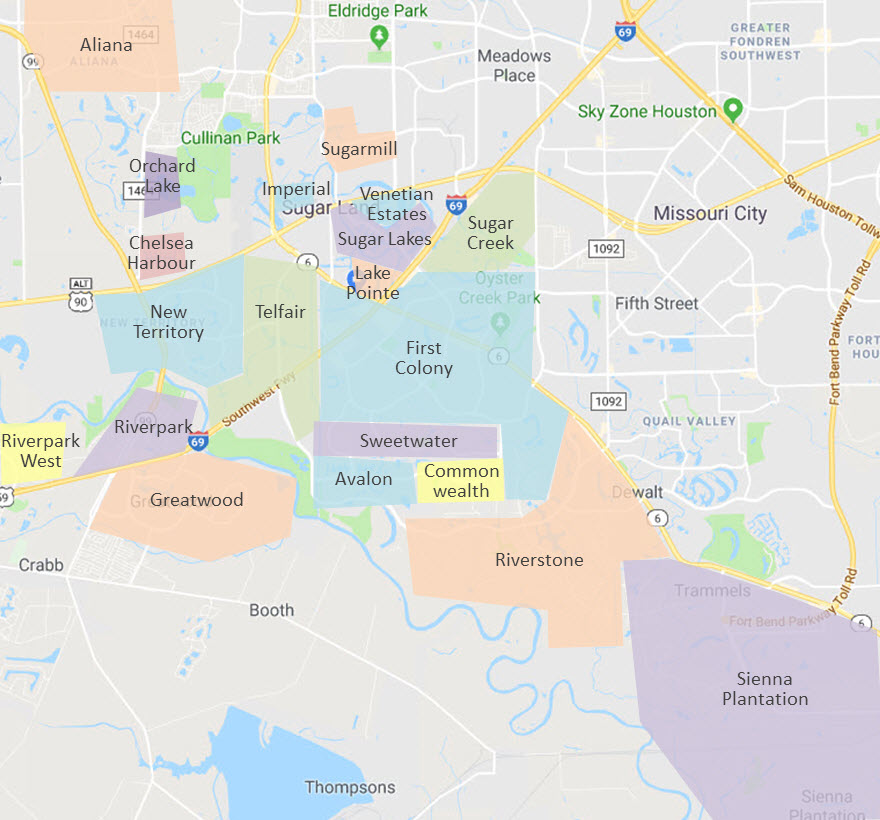 » View Sugar Land homes for sale or Sugar Land Neighborhood descriptions
City of Katy (incorporated)
Katy is larger than Sugar Land and hard to define. The actual City of Katy is only a small area of about 15,000 people: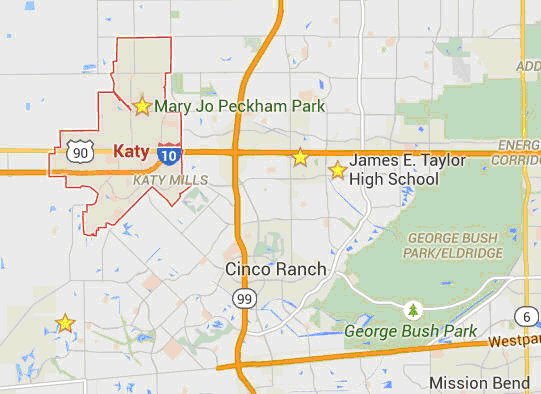 Greater Katy Area (Katy ISD)
When most people talk about Katy, they mean the Greater Katy Area covered by Katy ISD…a much larger area than just the official/incorporated City of Katy. Approximate population: 200,000-300,000: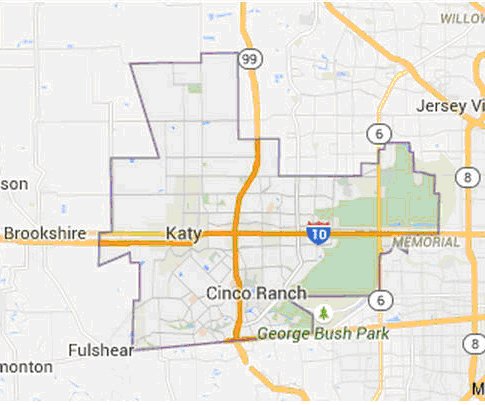 NOTE
Please read Wikipedia's description of the Greater Katy Area for a detailed explanation.
I like to divide Katy into three major areas:
North of Interstate 10
South of Interstate 10 but East of Grand Parkway
South of Interstate 10 but West of Grand Parkway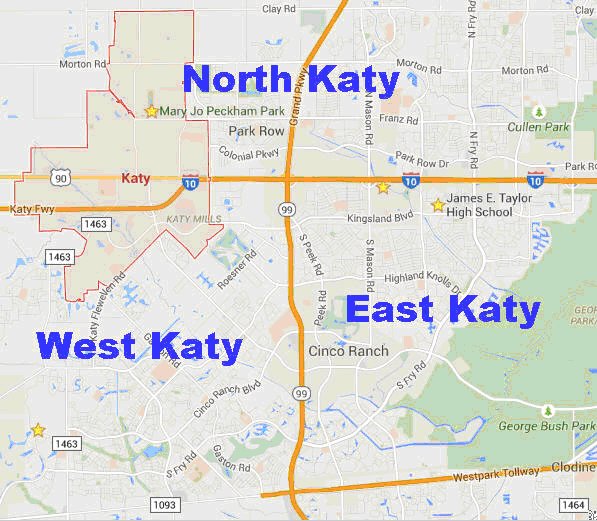 NOTE
My terms "north Katy," "east Katy," and "west Katy" are not official terms. They are just how I separate and explain the different parts of Katy to clients.
These three areas are very different in regards to the scores of the schools and the age and price of the homes. Generally speaking, the area north of I10 has lower scoring schools and, therefore, less expensive homes. The areas south of I10 both have high scoring schools, but some parts still have better schools than other parts. The east side of Grand Parkway is older, and has more mature trees (therefore "prettier" than the west side) but also has older homes. These homes are closer to Houston and, therefore, have shorter commute times than the west side of Grand Parkway. Just like older Sugar Land, you may want to do some light remodeling (paint, light fixtures, and faucets) to update these homes.
The area west of Grand Parkway is newer and so there are plenty of newer, modern homes zoned to high-scoring schools. However, if you live far-west you will have a longer commute than the far-east side of Katy (to downtown or Galleria).
We could probably separate another area out: the Energy Corridor which, for now, I include in east Katy.
Katy Neighborhoods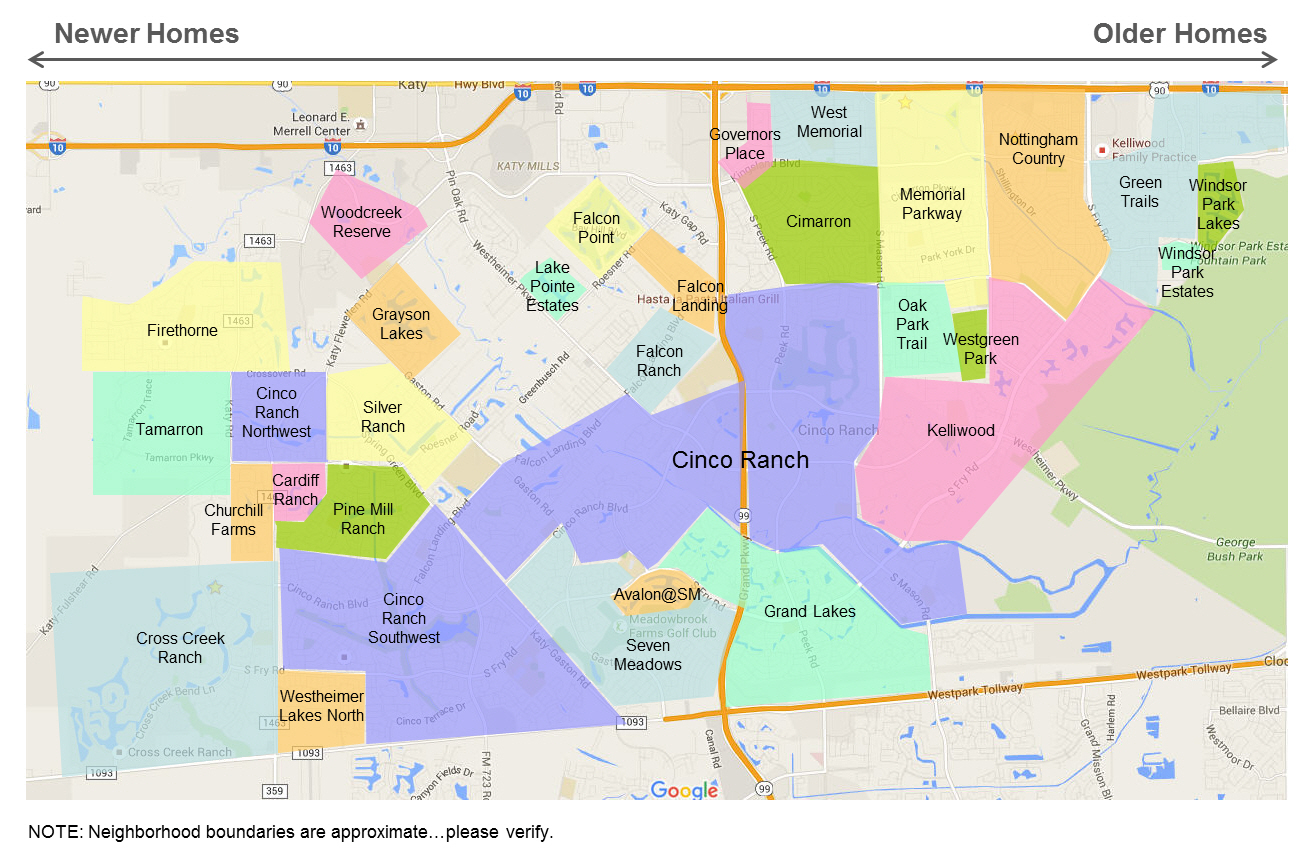 » View Katy homes for sale or Katy Neighborhoods descriptions
---
Look and Feel
When you are looking at Katy vs Sugar Land, you should consider the "look and feel" of the areas. Most of Sugar Land is "master planned." And so is most of east Katy and west Katy. Our master planned neighborhoods have tree-lined streets with sidewalks, beautiful parks, and community clubhouses, swimming pools, and tennis courts. They consist of various subdivisions that are governed by home owner associations. Some HOAs are stricter than others, but overall, they help maintain both the beauty and the home values of their respective subdivisions.
NOTE
A neighborhood usually consists of multiple subdivisions. For example, First Colony Sugar Land consists of over 70 subdivisions. Likewise, Cinco Ranch Katy consists of over 18 subdivisions. The amenities for the neighborhood are generally the same, but the tax rates, prices, and even schools may vary per subdivision, even though they are located within the same neighborhood.
When you drive around east Katy in the older Cinco Ranch, Kelliwood, and Grand Lakes areas…the streets and homes look almost exactly the same as Sugar Land to me. You will see more pine trees in Katy than Sugar Land, but that seems to be the only difference I see when driving around. So both areas are beautiful.
West Katy is newer and, therefore, has less mature trees (but newer homes!). However, in 10-15 years it should be as pretty as Sugar Land and east Katy. This is the same as the two newer neighborhoods in Sugar Land: Riverstone and Telfair…they each have less mature trees than other neighborhoods in Sugar Land.
North Katy is "spotty" and has a totally different, non-master planned feel to it than Sugar Land, east Katy, and west Katy. In north Katy, some parts feel "rural" rather than "suburban."
---
Affordability
When you are looking at Katy vs Sugar Land, you should consider the affordability of each area. While you can spend the same amount of money on a house in each area, generally speaking, you can buy a home in Katy for less than a comparable home in Sugar Land. Sugar Land is land-locked by Houston, Stafford, Missouri City, and Richmond…so it has less land to expand to than Katy. That may be one reason why prices are higher in Sugar Land…less homes and closer proximity to Houston equals higher prices.
>> Download the Katy Real Estate Market Report for detailed pricing information
---
Schools
When you are looking at Katy vs Sugar Land, you should consider the schools in each area. Both Sugar Land and Katy have excellent schools in some parts and lower scoring schools in other parts. It depends on the neighborhood! It also depends on what you consider "the best" schools…is a score of 9 or 10 required or is an 8 good enough? Sugar Land has only two 8-9 high schools, whereas Katy has four 8-9 high schools to choose from. If a home is zoned to a high-scoring high school, most likely the elementary and middle schools there are high-scoring as well…but not always.
"The GreatSchools Rating is on a 1-10 scale, where 10 is the highest and 1 is the lowest. Ratings are broken down into three categories: ratings 1-3 signal that the school is "below average," 4-7 indicate "average," and 8-10 are "above average." Ratings for these categories are shown in red, yellow and green (respectively) to help you see the distinctions."  Read More
---
Katy Schools
Katy schools are in the Katy Independent School District. This map shows the schools by color codes according to Greatschools.org.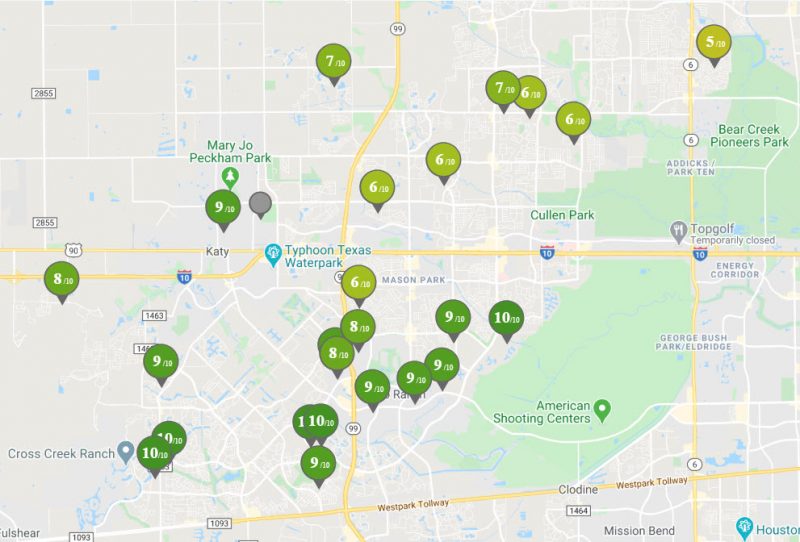 Katy High Schools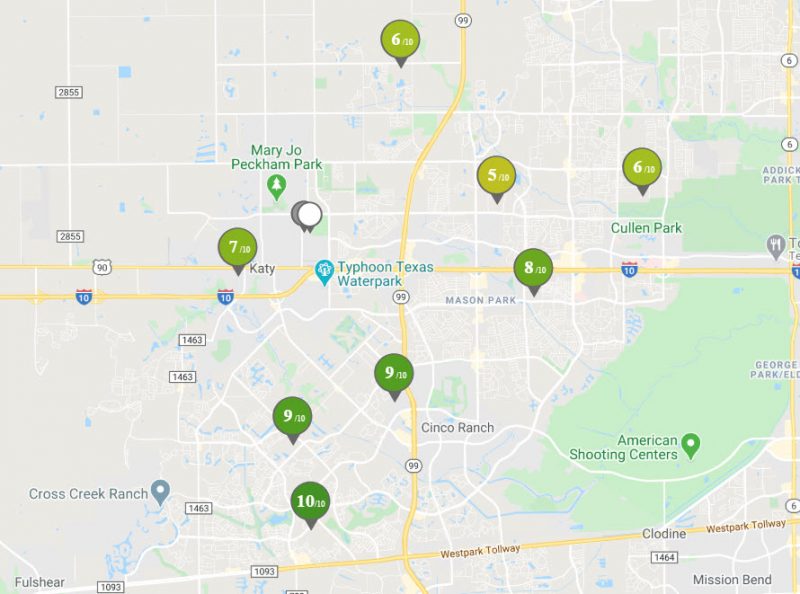 Sugar Land Schools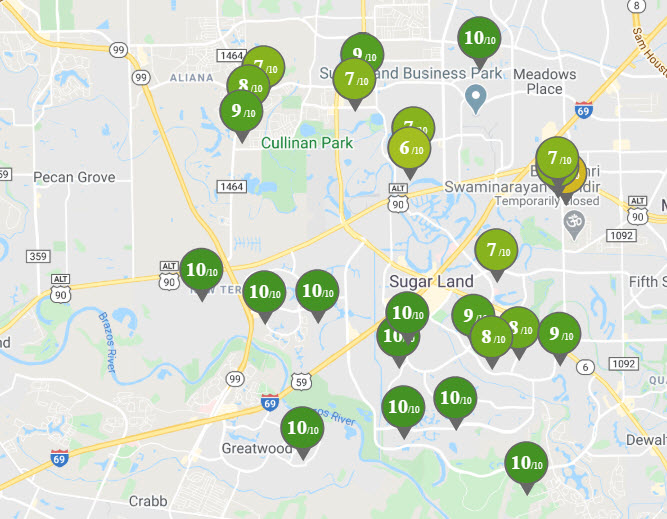 Sugar Land High Schools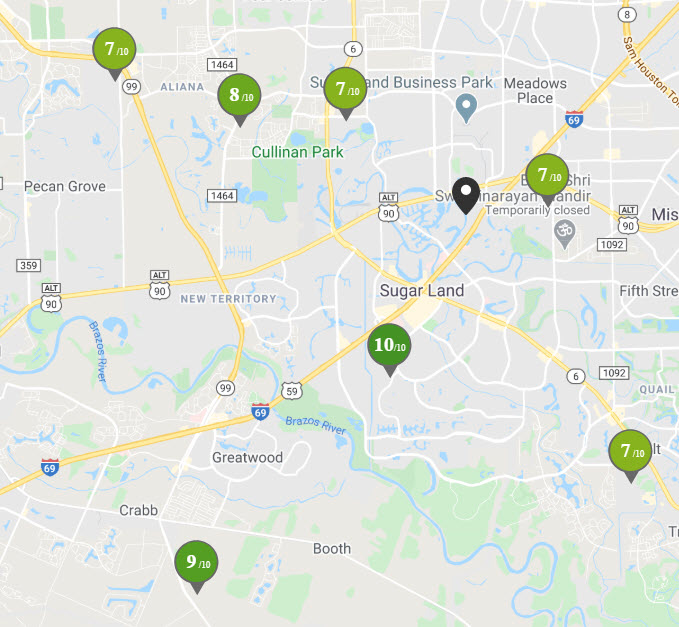 NOTE
Sugar Land is located in the Fort Bend ISD school district which also covers schools Houston, Missouri City, and Richmond TX.
---
Tax Rates
No doubt about it, Katy has higher property tax rates than Sugar Land, although there are variations among the various neighborhoods and subdivisions. Generally speaking, both in Katy and Sugar Land, the newer the subdivision, the higher the tax rate.
Find The Property Tax Rate of a Subdivision
Texas has some of the highest property taxes in the country. However we do not have a state income tax. If you are relocating here from another state, I recommend that you combine your current state income tax total with your current property tax total, and use that number to compare with our local property taxes…to put things in the correct perspective.
One last note…the newest neighborhoods have the newest homes which are a lot more energy-efficient that the older homes. So, even though your taxes will be higher in a newer home, your electricity and gas bills should be a lot lower.
---
Commute Times
Commuting around the 4th largest city in the country can be challenging. And Houston's popularity, which contributes to it's population growth, hasn't made commuting any easier. Generally speaking, Sugar Land is closer to downtown Houston, the Galleria area, and the two major airports. Katy is closer to the Energy Corridor.
In order to determine actual commute times, I recommend that you use Google Maps and view the Traffic layer at the general time when you commute.
---
Crime Rates
Personally, I would feel comfortable living in almost all neighborhoods of both Sugar Land and Katy. However, there are some exceptions. My best advice is for you to use RaidsOnline.com and view the Sex Offenders in the area and other crime-types provided to see what you are comfortable with. Please note that some cities (like Sugar Land) don't report their data, so you may have to look at FamilyWatchdog or Texas DPS.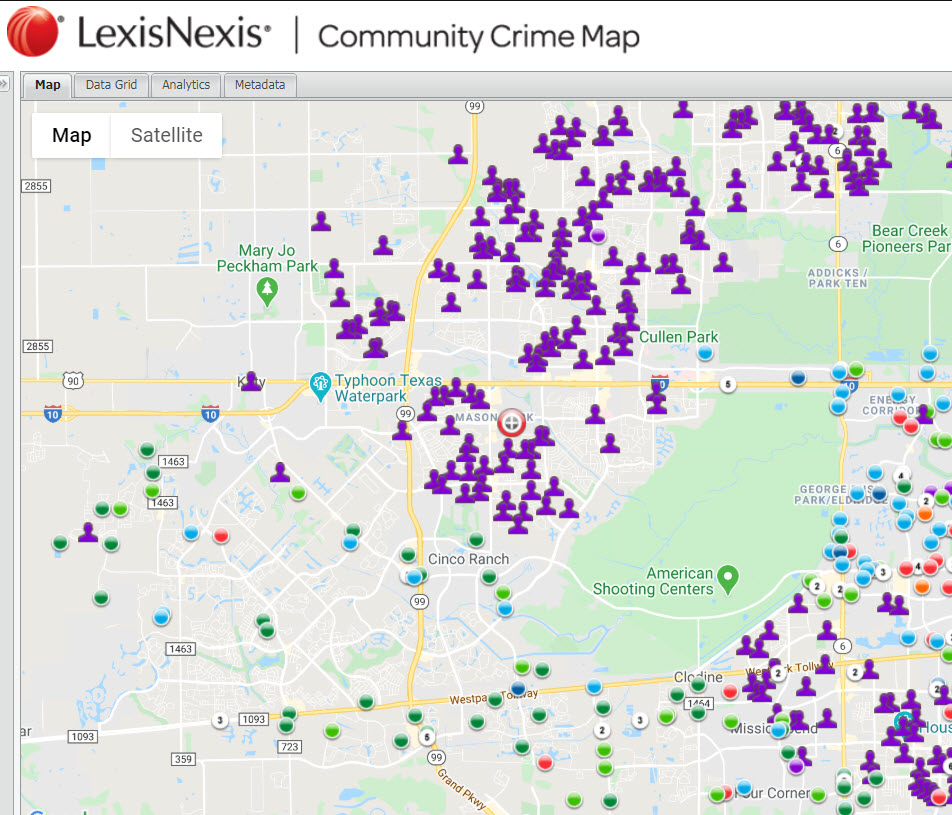 ---
Demographics
One of the things that does separate Katy vs Sugar Land (like any areas) are school demographics. The following demographics of the high schools in each area will give you more information about the differences between these two cities.
Sugar Land High Schools
Austin High School (New Territory, parts of North Sugar Land)

Clements High School (Telfair, Sweetwater, Avalon, Commonwealth, parts of First Colony)
​
Dulles High School (parts of First Colony, Sugar Lakes, Sugar Creek, Lake Pointe)

Elkins High School (Riverstone and parts of Missouri City)

Kempner High School (North Sugar Land including Imperial and Sugar Mill)
George Bush High School (Mission Bend)

George Ranch High School (Greatwood)

Lamar Consolidated High School (River Park and River Park West)

Ridgepoint High School (Sienna Plantation)
Katy High Schools
Cinco Ranch High School (west and east Katy)
Katy High School (north Katy)
Seven Lakes High School (west Katy)

Taylor High School (east Katy)
Tompkins High School (west Katy)
---
Flood Zones
There is a lot of misinformation on the Internet and the news media got a lot of information about Hurricane Harvey wrong. If you are concerned about flooding, then please read:
---
Summary
I think, overall, the Katy vs Sugar Land debate "boils down" to a combination of four things:
Commute
Age of Home
Price
Quality of Schools
If you work downtown or at the medical center, then Sugar Land is your best commute and Katy will be challenging unless you can drive during off-peak times. But you may have to settle for an older home that needs updating to get the best schools.
If you only want a newish home (built since 2005) but your budget is under $400,000, then Katy will have a lot more options than Sugar Land while still providing access to the highest-scoring schools. But the newer the home, the further west it will be located (so the longer the commute).
If you want the best schools and a new-built home in Sugar Land, your only options are Telfair (avg price $522K) and Riverstone (avg price $510K). The elementary and middle schools zoned to Riverstone are 9s and 10s, but the high school zoned to Riverstone is only a 7. 
If your budget is $300,000 or less, you may have to purchase a home in the Richmond area or settle for an older home with lower-scoring schools in either Sugar Land or Katy.      
Find:
---
Please share this info with your Friends!

Amazing Real Estate Tools – To Improve Your Journey
---
Featured Sugar Land Neighborhoods
---
If You Think This Website is Great, Wait 'till You Get Me As Your Agent!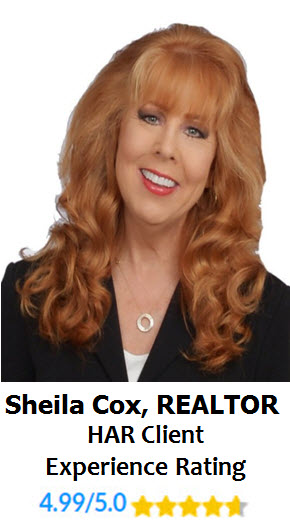 Candid Advice—I promise to give you candid advice on all homes and areas so you can make the best decisions. I won't ignore potential defects that can cost you money, or effect your resale value, in the future. My job is to protect you from defective homes as much as possible while helping you make a sound financial investment. (Read client testimonials)
Local Area Expertise—This isn't just my business…it's where I work and live (for 20 years) so I really know the area. I will help you narrow your options and find the best neighborhood for you based on your specifications. For long-term resale value, the neighborhood you choose is just as important as the home you buy. (Download my Ultimate Sugar Land Guide)
Great Data—I will give you the most in-depth data you have ever seen…to help you make the wisest decisions. This includes a professional CMA when you are ready to purchase a specific home…so you don't pay too much. Plus, my proprietary House Report (see sample) includes the data and information you need to ensure that you are making great home purchase. (Also see Pricing a Home Correctly)
Best Home Searches—Yes, you can search on your own, but no other home search available can filter down to the school level…and filter out the subdivisions that may be known to flood. Tell me exactly what you want, and I can narrow down your options better than any search you have access to. (Request a Custom Search)
Easier Process—Moving your family (and possibly changing jobs) is stressful enough. I'm your transaction manager and will guide you, step-by-step, through the process so you never miss an important deadline. I assist with inspections, repair negotiations, home warranties, HOA compliance inspections, hazard insurance, surveys, appraisals, title commitment, home warranties, title company, and more. (View helpful videos on my YouTube channel)
Network of Experts—My network of experts can make your transition to the area as smooth as possible. Need a painter, electrician, mover, insurance company, etc.? I can help! 
---
How I Work to Protect You
My job isn't "just" helping you find a house to buy…I'm helping you buy a home. There are over 100 tasks that I perform for you during the purchasing process. I'm looking out for you every step of the way and keeping my eye on the listing agent, the seller, the builder (if applicable), the lender, the inspector, and the title company. I'm on your side because I'm YOUR agent. I help with price analysis and negotiations, legal paperwork, inspections, repair negotiations, home warranties, HOA compliance inspections, hazard insurance, surveys, appraisals, title commitment, home warranties, and more. I have the expertise to help solve complicated problems that often occur in the process. Real estate is a huge financial and legal commitment. Don't you deserve to have a Five-Star real estate agent on your side? 
Please read:
⇒  Does My Agent Really Represent Me?
⇒  How Real Estate Commissions Are Paid
Take a look at a sample House Report that I do for my clients. This is the extra "due diligence" I do for you, to make sure that you are getting a great home. This is when I triple check taxes, schools, aerial maps, sex offenders in the area, flood zones, etc. NO other agent in the world does this! Check out p. 27 regarding the sample Flood Map info I provide.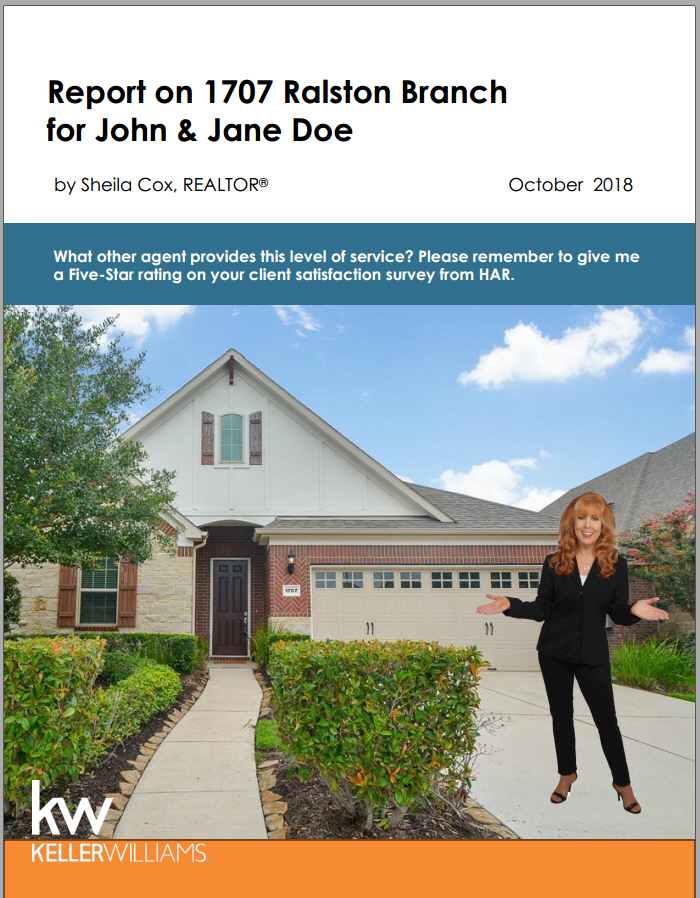 ---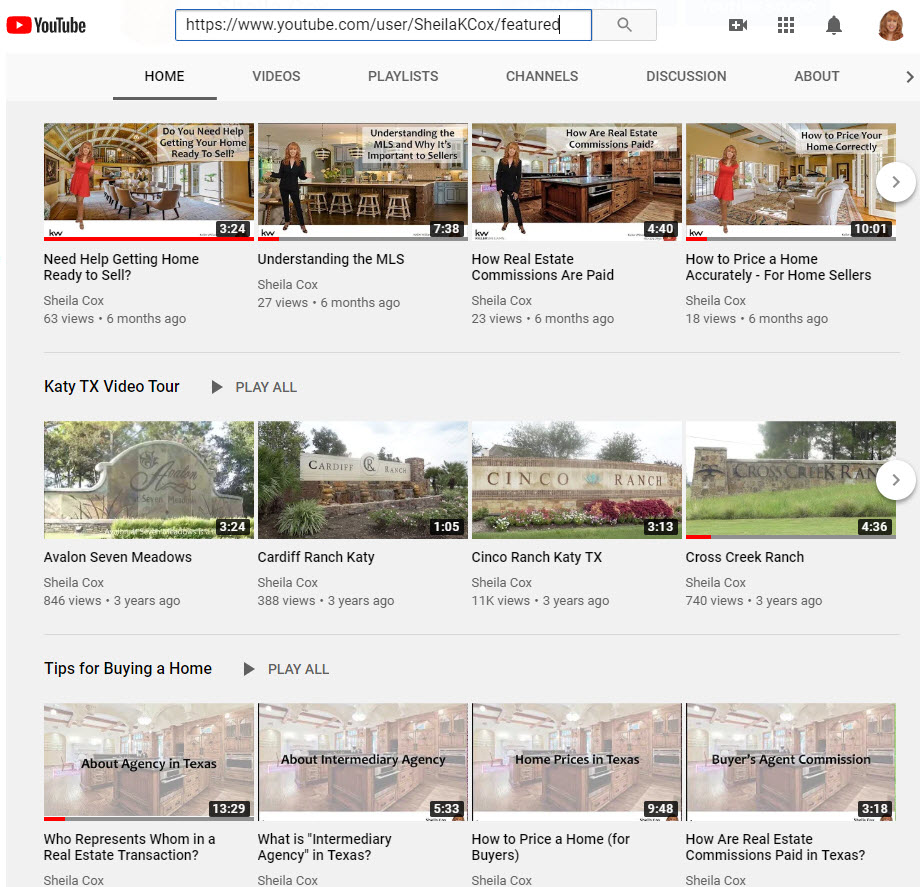 ---
Client Reviews