Sugar Land flood zones–Sugar Land is located near the Brazos river and has an elevation of 100ft, therefore, flooding is a potential hazard that needs to be understood. There are also many neighborhood lakes (and Oyster Creek) that run through Sugar Land and could serve as potential flood hazards. However, most of the Sugar Land neighborhoods, that could have potential flooding issues, are currently protected with a vast levee system. 
Whenever you buy a home in Sugar Land you should obtain a recent survey and flood certificate to notify you if the home is in a Sugar Land high-risk flood zone or not. Most homes in Sugar Land do NOT require flood insurance because the flood hazard is considered very small. But if you have concerns, there is national flood insurance available at an extremely low cost ($400/yr) to most home owners.
As a service to all of my buying clients, I always research the FEMA flood maps to ensure that you know which Sugar Land flood zone (if any) a home is located in BEFORE you purchase. View a sample of my House Report.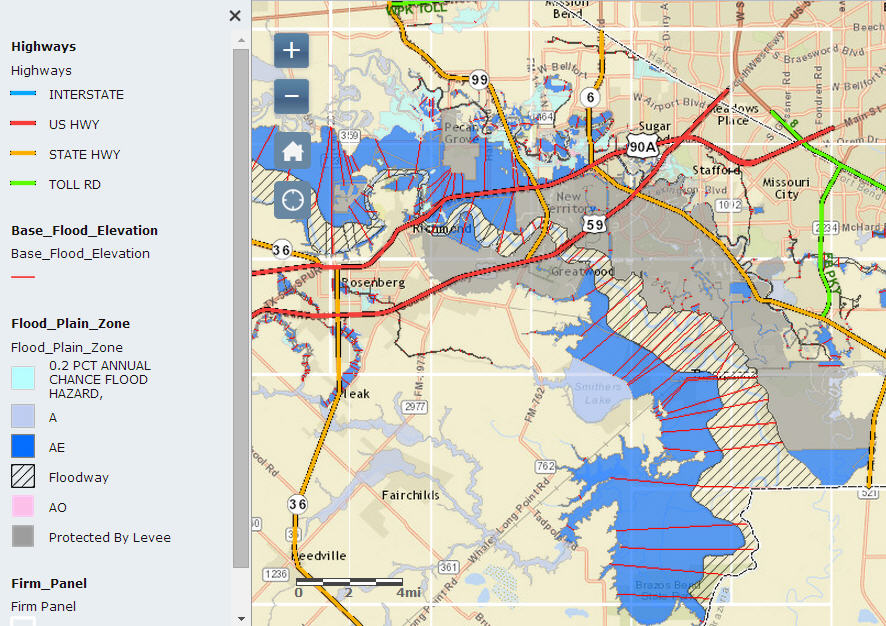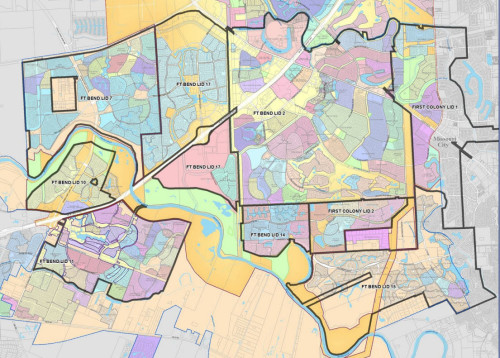 Source: http://www.sugarlandtx.gov/DocumentCenter/View/9144
There was a major rain event In Sugar Land on Memorial Day 2015 that produced 10 inches of rain in 8 hours. I contacted friends/clients throughout the area to see if anyone experience flooding in their home…none did. The City of Sugar Land has posted a forum with reports from people throughout the city to see what different areas experienced (read details). It appears that drainage ditches, bayous, and lakes got full and the streets flooded but I didn't find any reports where houses were flooded. Our streets are designed to be lower than the homes and they direct rainfall to the storm drains. If you leave a car parked on a street during a flash flood, it may get flooded, but I have yet heard of areas in Sugar Land where major house flooding has occurred. The levee system here works very well! 
---
Links and Resources
Fort Bend County OEM Flooding Updates
Fort Bend County Road Closures
---
» Read advice about flooding
» View digital Sugar Land flood map
» Learn more about flood zone definitions
What Sugar Land Areas Flooded After Hurricane Harvey?
While flood zones are typically rated as 100-year or 500-year, Hurricane Harvey is being described as a an unprecedented, 1,000 year event (read more)! This means that homes that flooded during that once-in-a-life time weather event may never flood again. So let's keep our wits about us. Investors (who are keeping their wits about them) are flocking to the area to buy homes that others won't consider…because they know that a home that flooded during Harvey is not an indication of future flooding.  In fact, less than 1 percent of Sugar Land homes were flooded during Hurricane Harvey…so don't let what you see on t.v. give you the wrong impression…most of the homes in Sugar Land TX do not flood on a regular basis and did not flood even during this HISTORIC hurricane.

Source: http://www.businessinsider.com/hurricane-harvey-2017-rainfall-map-2017-8
In Sugar Land there were approximately 230 homes in Fort Bend County LID #2 (map shown below) that flooded and 17 homes outside of LIDs. Knowing that LID #2 covers approximately 9,000 homes in First Colony, that means that only 2.5% of homes there flooded during this once-in-a-lifetime, historical rain event.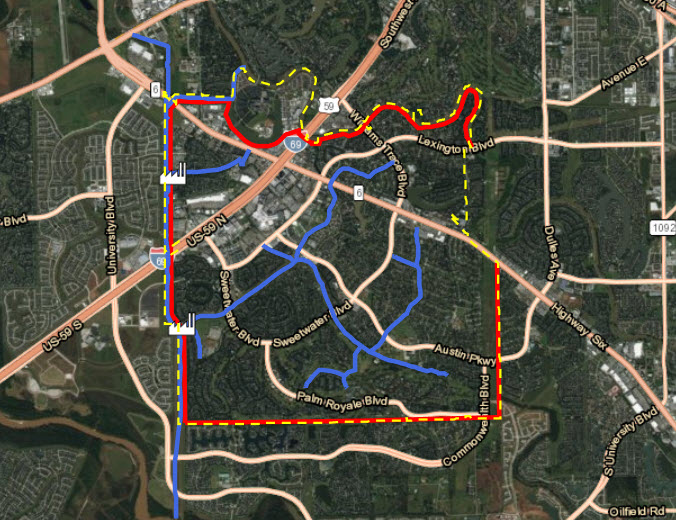 Sugar Land areas impacted by Hurricane Harvey: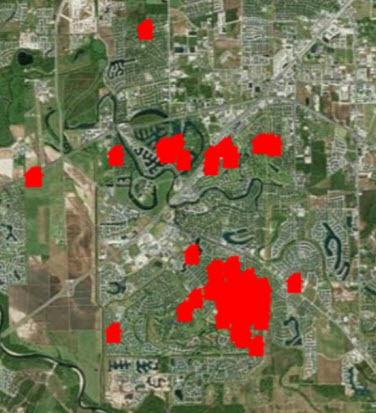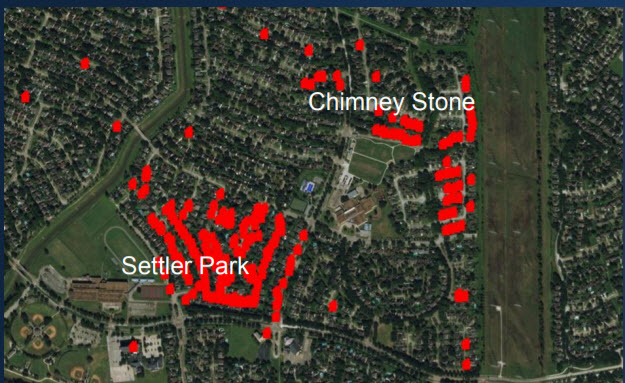 Riverstone 
Hurricane Harvey affected a few homes the Riverstone Development. All the homes that are affected are in Levee Improvement District 19. The subdivision of Millwood at Riverstone had widespread flooding during Harvey and the residents have filed a lawsuit. So did the street of Falling Briar Lane in Riverstone. Other subdivisions in Riverstone that had a few flooded homes (but not widespread flooding!) include: Sweetbriar, The Orchard, Lost Creek and Shadow Glen…all of which are close to the Brazos river (see map below).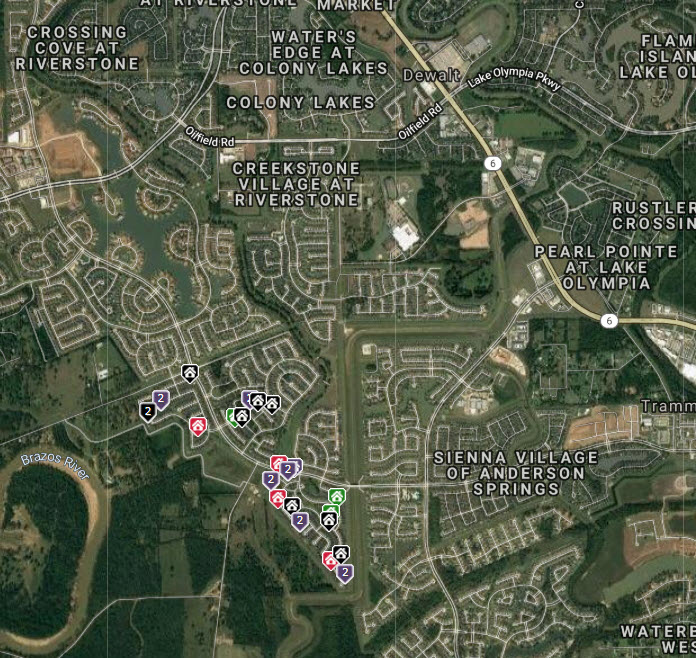 Sienna Plantation
According to reports, only about 65 of Sienna Plantation's 7,700 houses flooded…less than 1 percent. It is difficult to determine exactly where the flooding occurred but it seems to be on the West side, closest to the Brazos River in Sienna Village of Waters Lake, and on the Southeast side in Sienna Point (new section).
>> See Hurricane Harvey event analysis in Sienna Plantation and Hurricane Harvey Event Analysis p. 10.
Summary
Again…not all the homes in these neighborhoods flooded! The water got high and some of the roads were flooded for a few days, but this was an unprecedented weather event which is very unlikely to ever occur again.
With that in mind, I will say that it will be very important for home buyers to watch out for repaired homes and to make sure they have been repaired properly. And I will also say that there are areas in Houston that are prone to flooding, year after year, and you need to have a local Realtor who knows how to check the flood maps and filter out those areas from your search…like me!
And finally, as a resident of the Gulf Coast, you should know that hundreds of homes in the Houston area that are not in high-risk flood zones and had never flooded before during any other flood or hurricane event, did flood during Harvey. So that means…you never know for sure and you had better carry Flood Insurance on your home at all times! In my opinion, a $400/yr flood insurance policy is worth the peace of mind you have from knowing you won't be financially devastated if a storm sits on top of your neighborhood and drops 50 inches of rain! I don't know of any areas in the country that can handle that much water…do you?
Read also:
---
Please share this info with your Friends!
---
Amazing Real Estate Tools – To Improve Your Journey
---
Featured Sugar Land Neighborhoods
---
If You Think This Website is Great, Wait 'till You Get Me As Your Agent!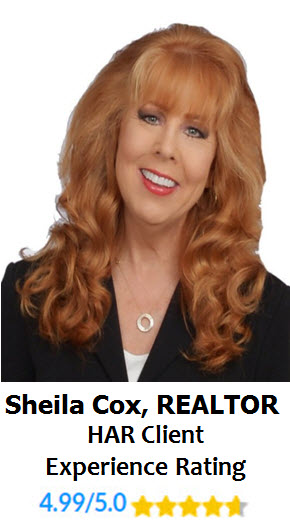 Candid Advice—I promise to give you candid advice on all homes and areas so you can make the best decisions. I won't ignore potential defects that can cost you money, or effect your resale value, in the future. My job is to protect you from defective homes as much as possible while helping you make a sound financial investment. (Read client testimonials)
Local Area Expertise—This isn't just my business…it's where I work and live (for 20 years) so I really know the area. I will help you narrow your options and find the best neighborhood for you based on your specifications. For long-term resale value, the neighborhood you choose is just as important as the home you buy. (Download my Ultimate Sugar Land Guide)
Great Data—I will give you the most in-depth data you have ever seen…to help you make the wisest decisions. This includes a professional CMA when you are ready to purchase a specific home…so you don't pay too much. Plus, my proprietary House Report (see sample) includes the data and information you need to ensure that you are making great home purchase. (Also see Pricing a Home Correctly)
Best Home Searches—Yes, you can search on your own, but no other home search available can filter down to the school level…and filter out the subdivisions that may be known to flood. Tell me exactly what you want, and I can narrow down your options better than any search you have access to. (Request a Custom Search)
Easier Process—Moving your family (and possibly changing jobs) is stressful enough. I'm your transaction manager and will guide you, step-by-step, through the process so you never miss an important deadline. I assist with inspections, repair negotiations, home warranties, HOA compliance inspections, hazard insurance, surveys, appraisals, title commitment, home warranties, title company, and more. (View helpful videos on my YouTube channel)
Network of Experts—My network of experts can make your transition to the area as smooth as possible. Need a painter, electrician, mover, insurance company, etc.? I can help! 
---
How I Work to Protect You
My job isn't "just" helping you find a house to buy…I'm helping you buy a home. There are over 100 tasks that I perform for you during the purchasing process. I'm looking out for you every step of the way and keeping my eye on the listing agent, the seller, the builder (if applicable), the lender, the inspector, and the title company. I'm on your side because I'm YOUR agent. I help with price analysis and negotiations, legal paperwork, inspections, repair negotiations, home warranties, HOA compliance inspections, hazard insurance, surveys, appraisals, title commitment, home warranties, and more. I have the expertise to help solve complicated problems that often occur in the process. Real estate is a huge financial and legal commitment. Don't you deserve to have a Five-Star real estate agent on your side? 
Please read:
⇒  Does My Agent Really Represent Me?
⇒  How Real Estate Commissions Are Paid
Take a look at a sample House Report that I do for my clients. This is the extra "due diligence" I do for you, to make sure that you are getting a great home. This is when I triple check taxes, schools, aerial maps, sex offenders in the area, flood zones, etc. NO other agent in the world does this! Check out p. 27 regarding the sample Flood Map info I provide.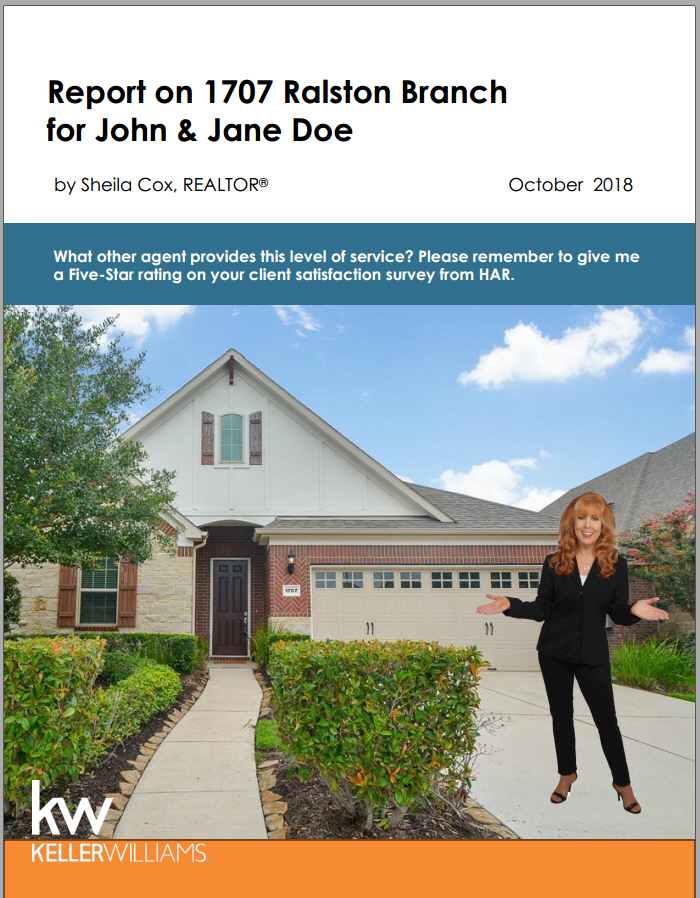 ---
Learn Something New – View My Videos!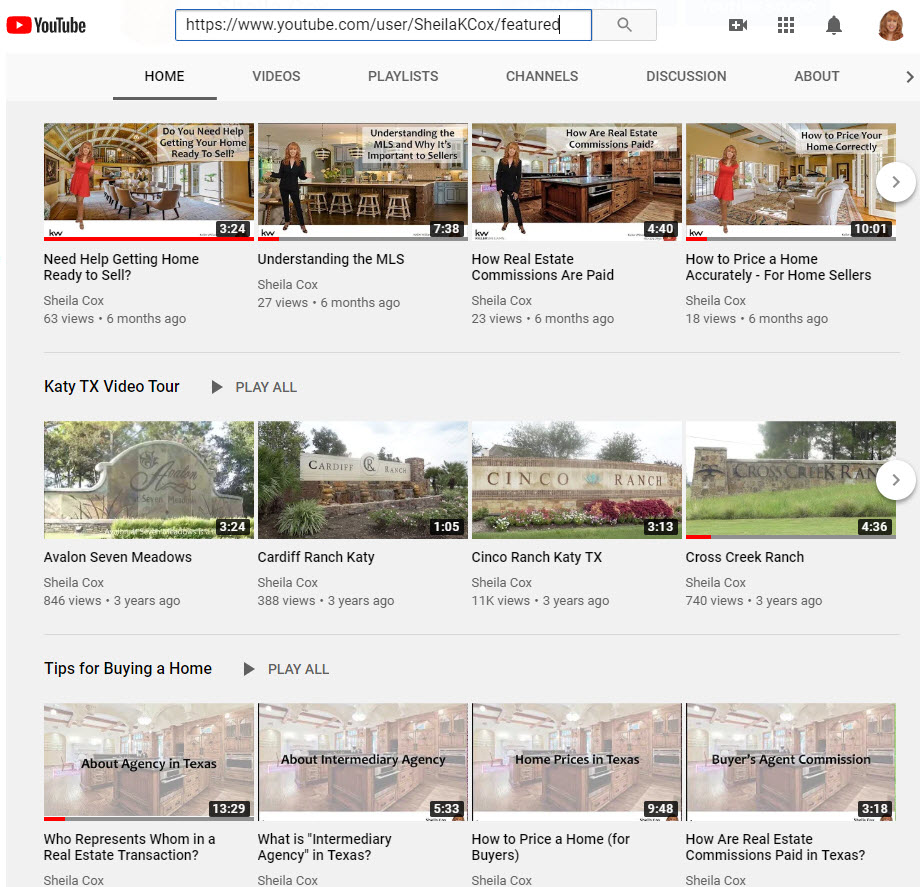 ---
Client Reviews