Sheila Cox
I AM THE LOCAL NEIGHBORHOOD EXPERT AND I'VE GOT YOUR BACK
"I'll help you get the RIGHT house in the RIGHT neighborhood at the RIGHT price."
I am an award-winning, Five-Star Sugar Land real estate agent who has lived in the Sugar Land area  for 20+ years. I have received the Five-Star Real Estate Agent award for the past nine years because of my client satisfaction ratings. Less than 7 percent of all the agents in the Houston-metro area receive this honor! 
You will find me to be the professional, enthusiastic, service-oriented Realtor that you have always wanted…serving you before, during, and after the sale. I take my Fiduciary Duty very seriously and I will fight to get you the best deal possible, make sure your goals are achieved, and protect your interests to the best of my ability.
Not only that, I provide the most extensive information available from a Realtor (view a sample house report) so that you can make the wisest real estate decisions. No other Realtor in the area will provide you with the amount of research and information that I will provide! 
---
I Love My Clients!
---
When You Are Ready to Tour Homes
When you are ready to tour some homes, then call/text me at 832-779-2890 so we can get you on the calendar and discuss exactly what will be the perfect home for you. I'm popular so get on my calendar as soon as you can! ;-D
Or you can send me your perfect home criteria by filling out the form on my website here.
Once I set up your custom search, then you will start getting home listings via email and you can mark them with Hearts to mark your favorites. A couple of days before our scheduled tour, I make appointments for your Favorite homes and print out the maps, home data, etc. for our tour. On the day of our tour we will meet at my office and then drive the area together so I can tell you about the area and point out various features while also touring homes. This is a great way to find your perfect home!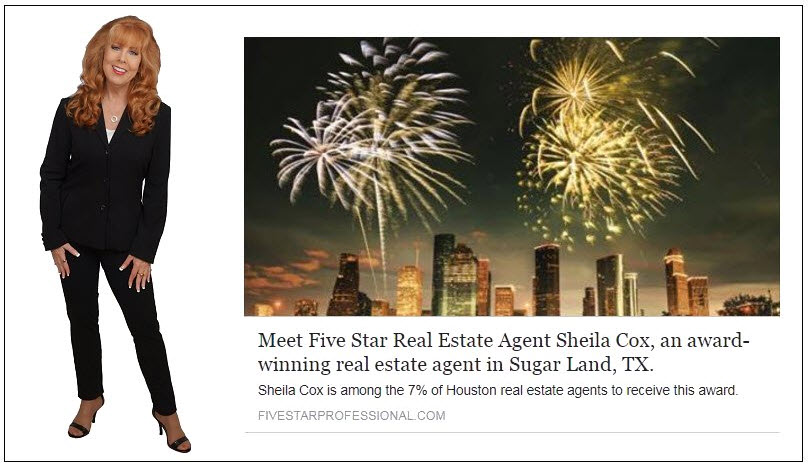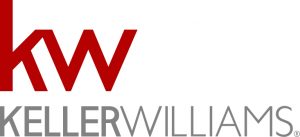 Keller Williams Southwest
1650 Hwy. 6 #350
Sugar Land TX 77478
TREC Disclosure
Consumer Protection Notice
---
About Sheila Cox
Winner of Five-Star Real Estate Agent eight years in a row and featured in "Texas Monthly" magazine.
Five-star rating with HAR (based on client satisfaction). 
EcoBroker certified real estate agent.
Sugar Land relocation expert.
Business Degree (B.B.A.) with Major in Marketing.
What I Can Do for You
Candid Advice—I promise to give you candid advice on all homes and areas so you can make the best decisions. I won't ignore potential defects that can effect your home value or enjoyment.
Local Area Expertise—This isn't just my business…it's where I work and live. I will help you find the best location for your home purchase.
Great Data—I have a proprietary House Report to make sure that you get all the data and information you need to make a great home purchase.
Best Home Searches—Yes, you can search on your own, but no other home search available can filter down to the school level…and filter out the subdivisions that may be known to flood.
Easier Process—Moving your family (and possibly changing jobs) is stressful enough! I'm your real estate project manager and will guide you, step-by-step, through the process so you never miss an important deadline.
Network of Experts—My network of experts can make your transition to the area as smooth as possible. Need a painter, electrician, mover, insurance company, etc.? I can help.  
How I Work to Protect You
My job is not "just" helping you find a house to buy…I'm helping you buy a house. There are over 100 tasks that I perform for you during the purchasing process! I'm looking out for you every step of the way and keeping my eye on the Listing Agent, the Seller, the builder (if applicable), the lender, the inspector, the title company. I'm on your side because I'm your agent. Not only do I help you find a house, I help with price analysis and negotiation, legal paperwork, inspections, repair negotiations, home warranties,compliance inspections, hazard insurance, surveys, appraisals, title commitment, and so on.          
Please read>> Does My Agent Really Represent Me?
And take a look at a sample House Report that I do for my clients. NO other agent in the world does this! Check out p. 27 regarding the Flood Map info I provide to you.