Does My Real Estate Agent Represent
Me

or the Seller?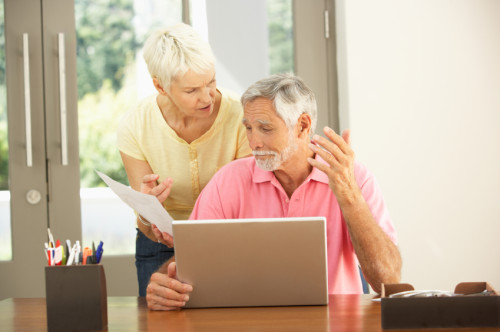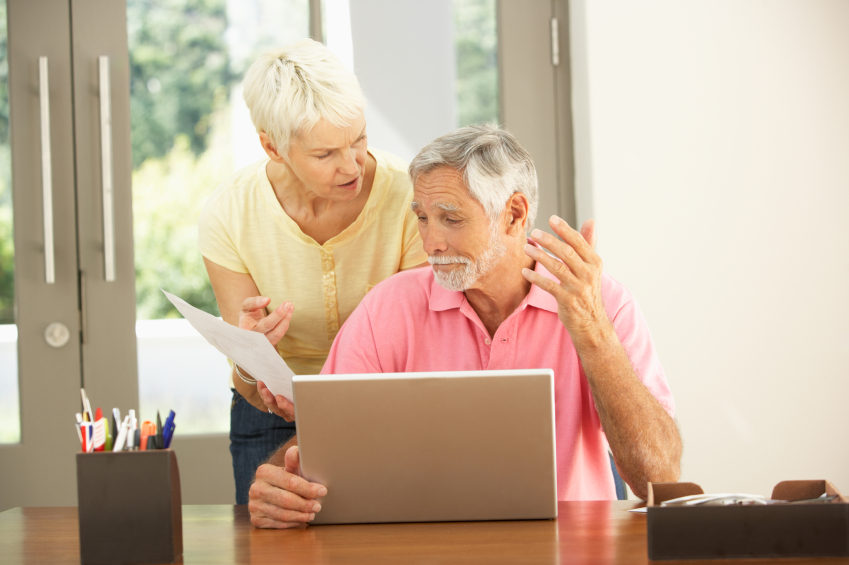 When I bought my first house in the mid 1990s, Texas was kind of a "Buyer Beware" state. In fact, a home Buyer could spend weeks looking for a home with a real estate agent, telling her secret information (like how much you were willing to pay for a house), not knowing that everything you told that real estate agent would be told to the Seller because the real estate agent was actually representing the Seller–not you (the buyer)!
Here's what you need to know…
Unless you have a written Buyer's Representation Agreement with a real estate agent, all Texas agents are always representing the seller–typically known as the "Subagent." That is how agency works in Texas. This can be confusing for home buyers, so the Texas Real Estate Commission wants you to know about brokerage services, who represents whom, and intermediary agency, BEFORE you start working with an agent...not only is it the law, it's also for your protection! (Read TREC's Information About Brokerage Services.)
NOTE
Finding out "your agent" is actually representing the Seller after you've found the house you want to buy is NOT a good thing! If an agent doesn't give you the Information About Brokerage Services form UP FRONT (before showing you houses), then you are dealing with someone who is unprofessional and not following the law.
Another fact that you need to know is that Texas is (kinda) a dual-agency state…although they call it "intermediary agency." This means that a real estate broker (such as Keller Williams Southwest) can represent both the Buyer (you) and the Seller (them) in a the same transaction, but only with written permission from all parties. These visual aids will help you to understand…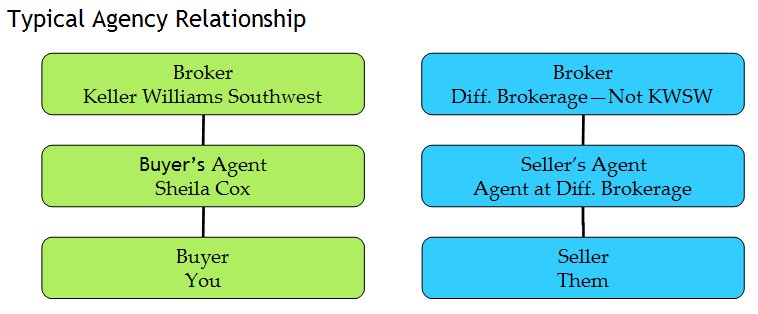 In this case, you are represented by Keller Williams Southwest (KWSW) while buying a house listed by another broker, such as a RE/MAX or a Coldwell Banker. This is not an intermediary agency since KWSW is only representing you.
---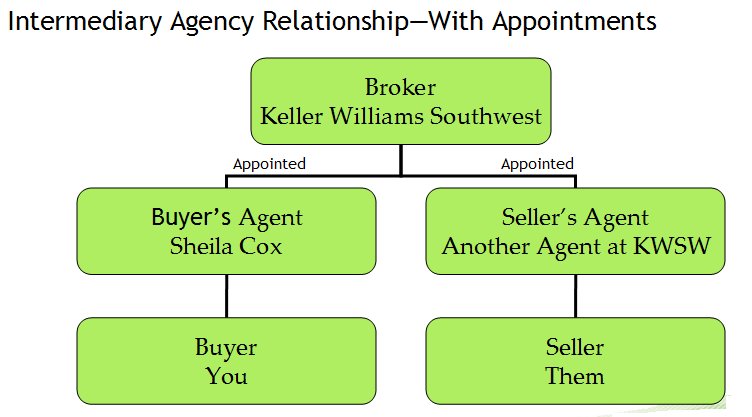 In this case, KWSW is representing both you and the Seller…because the house that you are buying is listed with KWSW but with a different agent.  However, you have an appointed agent (Sheila Cox) and the Seller has an appointed agent (Unknown) and both agents have to maintain their duty of confidentiality. So I am not allowed to share your private information with the other agent. This situation may occur frequently with large brokerages who have lots of listings, such as KWSW.
---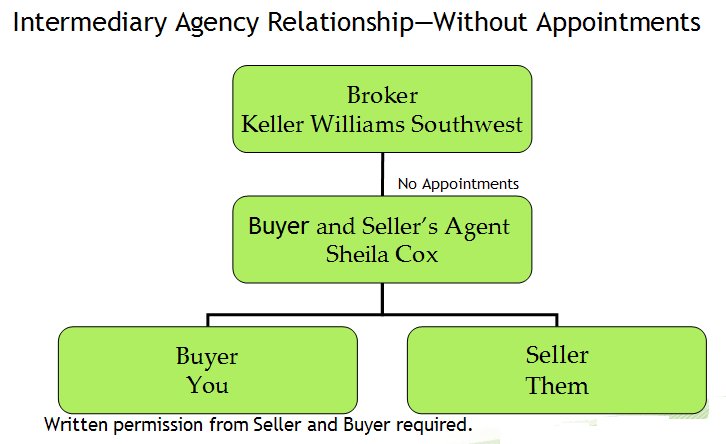 This situation may only occur if both the Seller and the Buyer agree to it in writing. In this situation, you are buying a house that I have listed for one of my other clients. I would be representing both you and the Seller, so my fiduciary responsibilities would be limited and no advice could be given.
Frankly, I don't work these types of deals. If you wanted to buy one of my listings, then I would step back and find another real estate agent to be your appointed agent…so you would still have full representation.
Now you need to understand two more important things:
How To Get Dedicated Buyer Representation in Texas?
Who Pays Real Estate Commissions in Texas?
---
How I Work to Protect You
My job is not "just" helping you find a house to buy…I'm helping you buy a house. There are over 100 tasks that I perform for you during the purchasing process! I'm looking out for you every step of the way and keeping my eye on the Listing Agent, the Seller, the builder (if applicable), the lender, the inspector, the title company. I'm on your side because I'm your agent. Not only do I help you find a house, I help with price analysis and negotiation, legal paperwork, inspections, repair negotiations, home warranties,compliance inspections, hazard insurance, surveys, appraisals, title commitment, and so on.            
And take a look at a sample House Report that I do for my clients. NO other agent in the world does this! Check out p. 27 regarding the Flood Map info I provide to you.