Sugar Land TX is a unique area that consists mostly of "master planned communities." We typically refer to these Sugar Land master planned communities as "neighborhoods." Most neighborhoods are further divided into subdivisions. There are over 200 subdivisions in Sugar Land! Some neighborhoods like New Territory (40+ subdivisions), Greatwood (25+ subdivisions), and First Colony (30+ subdivisions) are divided into many subdivisions. Here's how this happens…
When a developer decides to create a planned community, it doesn't develop the entire plot of land all at once. It opens a section or two at a time. Each section typically has 2 to 5 different builders who are building homes within a certain price range. So one subdivision may contain homes in the $200-400K price range, and another may contain homes in the $400-600K price range, and yet another may contain homes $750K and up.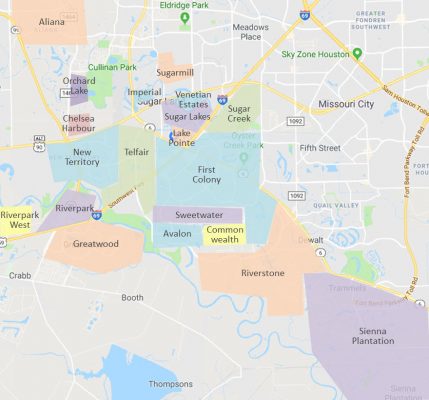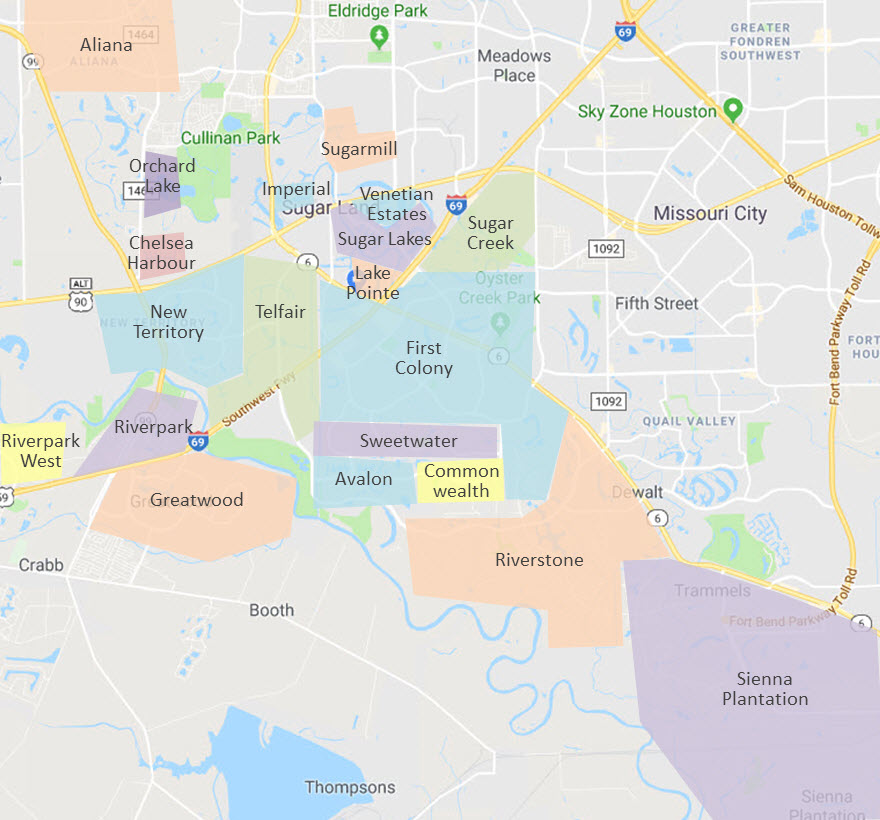 So within one Sugar Land master planned community you may have home prices from $200K to over $1 million, but they would be subdivided so that you should never see a $200K house next to a $900K house. Also some subdivisions may have different features than surrounding subdivisions such as a water front section, gated section, golf course section, etc.
For the larger Sugar Land master planned communities you will notice that various subdivisions may be zoned to various elementary schools–and maybe even different middle schools and high schools–all within the same neighborhood. So it is very challenging for newcomers to get a handle on where to live!
» See How to choose the right Sugar Land neighborhood for you for help
---
HOA (Home Owner's Association) Fees
Another complication is that various subdivisions may have different HOA (home owner's association) maintenance fees…even within the same neighborhood. This is because various subdivisions may have different amenities and features from surrounding subdivisions. For example, Sweetwater is actually an upscale subdivision in the First Colony planned community, but is treated as if it is its own neighborhood. Some of Sweetwater has a constable service, so their HOA fees are higher (up to $1800/yr) than other First Colony HOA fees to cover that extra service.
Another example is Sugar Creek where, if you live on Country Club Blvd, the HOA maintains your front yard for you, so your annual HOA fee is higher than homes that are not located on Country Club Blvd.
Yet one more example is Telfair where, if you live in a patio home, your yard maintenance is included in the annual HOA fee as well, and will be higher than the typical HOA fee for that neighborhood.
The HOA fees in Sugar Land master planned communities (sometimes referred to as maintenance fees) are annual fees that cover the cost and upkeep of the neighborhood's shared amenities such as street lights, sidewalks, common areas, park, swimming pool, tennis courts, etc. There are Pro's and Con's for having home owner associations but if you want to live in Sugar Land, you might as well resign yourself to the fact that you are probably going to have to deal with one because there are very few parts of Sugar Land that are not covered by an HOA.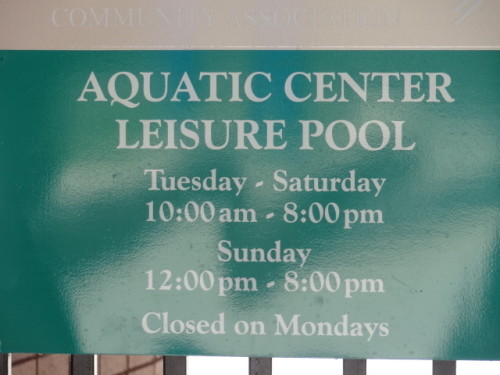 HOA fees are typically paid annually and, as specified previously, they can vary from house to house within the same subdivision, so always check with your real estate agent before purchasing a specific home. These fees can change (slightly) from year to year as well. Some HOAs also have transfer fees (applied each time you buy or sell a home that is within an HOA) that may be paid by either the Seller or the Buyer. There can also be compliance inspections and certificates during home sale transactions, depending on the HOA, which is another cost when purchasing or selling a home. These fees are all typically under $200 each (transfer fee is separate from the compliance certificate fee). You need a good real estate agent who can guide you through all of the requirements during a real estate transaction so you don't end up with a home that hasn't met its HOA compliance, and then have to (unexpectedly) pay more money to get it up to compliance after you move-in! Inexperienced agents or agents from other areas may not know and understand these complicated HOA requirements.