Why I Love Sugar Land
There are so many benefits to living in the Houston area, and Sugar Land is one of its top suburbs. Why do I think Sugar Land TX is great?…
Culturally Diverse
Sugar Land is a unique suburb in that it has a distinct "cosmopolitan" feel and is very culturally diverse. While about 44 percent of the population is white, the remaining 56 percent is comprised of Asian, Indian, Middle Eastern, Hispanic and African American cultures. And just as important as its diverse demographics, is its fostering of an inclusive and accepting community. In fact, in 2007, Sugar Land was the first city in the nation to be named a Community of Respect® by the Anti-Defamation League (ADL). It has maintained this distinction.
» Read Sugar Land embraces diversity
Excellent Schools
Sugar Land schools are known to be excellent. Over half of the 33 elementary schools have a score of 9-10 with Greatschools.org and, likewise, six of the fourteen middle schools score a 9-10 as well. There are eleven high schools serving the area and two score 9s (Clements and Austin) and two score 8s (Dulles and George Ranch). Sugar Land is part of Fort Bend ISD which is an award-winning school district but does not rate as highly as the nearby Katy and Lamar Consolidated ISDs. This is because Fort Bend ISD is much larger than those ISDs and includes many non-Sugar Land schools (like nearby Houston). Almost all Sugar Land schools score 8-10 (the highest scores available) at Greatschools.org.
High Quality of Life
With all of these accolades it's no wonder that Sugar Land has been on the list of numerous best places to live surveys. Some of the most noteworthy include CNN Money Magazines 100 Best Place to Live (2006) in the nation, Forbes' list of Top Towns to Live Well and Business Week's best and most affordable suburbs. America's Promise–The Alliance for Youth name Sugar Land a three-time winner of the nation's 100 Best Communities for Young People.
Quality Homes and Communities
Sugar Land is home to the largest number of master-planned communities in the nation. Every community has quality homes and wonderful subdivisions with swaths of green space and community amenities such as club houses, swimming pools, parks, tennis courts, fishing lakes, and walking trails. For neighborhood details, jump to Sugar Land Neighborhoods.
Well-Maintained and Scenic Public Spaces
Because it is entirely master planned, Sugar Land has ample well-designed public spaces, parks, walking- trail systems and tree-lined streets, all of which are held to high scenic standards. Consistently winning awards from Keep Texas Beautiful and the Texas Recreation and Parks Society, Sugar Land also received the inaugural Texas Scenic City "Silver" Certification for achieving the highest level of scenic standards for public roadways and spaces.
Low Crime Rate
According to the City of Sugar Land's website, Sugar Land's crime rate for 2017 was the lowest on record.
Sugar Land's crime rate decreased 10 percent from 2016 to 2017. The rate is 50.4 percent lower than the state average and 44 percent lower than the national average for 2016.
Sugar Land's violent crime rate decreased 22 percent from 2016 to 2017. The rate is 84 percent lower than the state average and 82 percent lower than the national average for 2016.
Sugar Land's property crime rate decreased 9.5 percent from 2016 to 2017. The rate is 45 percent lower than the state average and 38 percent lower than the national average for 2016.
Awards
Sugar Land, TX, has won the following awards:
2018
Top 50 of the Safest Cities to Retire in America for 2018 – SecurityChoice.com
Among the Top 15 Most Entrepreneurial Cities for 2018 – FitSmallBusiness.com
Recognized Among the Best 100 Towns in Texas for Starting a Small Business – LendEDU.com
Sugar Land ranked in the top 50 most searched cities (Among most popular places in the US to relocate to) – moveBuddha.com
Honorable Mention for Brazos River Park – H-GAC Parks and Natural Areas Awards
2017
List of the Safest Cities in the U.S., No. 9 in Texas – SafeHome.com
Named one of Best Vacation Places to Escape the Winter – Expedia
Sugar Land Top-ranked for expected holiday residential retail spending – WalletHub
Sugar Land Top-Ranked in the 2017 Digital Cities Survey for cities using technology to improve citizen services, enhance transparency and encourage citizen engagement.
Named one of America's best small markets for business – Global Trade magazine
Ranked as one of the most financially secure neighborhoods in all of Texas – LendEDU.com
Sugar Land Top-Ranked, Best Places to Raise a Family in Houston – Niche.com
5 Great Places to Live Around Houston – Neighborhoods.com
Sugar Land Top-Ranked, 50 Cities With Cheap Rent and Good Jobs for New College Grads – Money Magazine
Recognized as Prime Area in the U.S. to Build a Lifelong Dream Home
Recognized among "2017 Best Cities for Seniors to Retire"
Top New or Renovated Venue, Billboard Magazine (Smart Financial Centre)
>> See more awards at http://www.sugarlandtx.gov/1002/Awards-Recognitions
---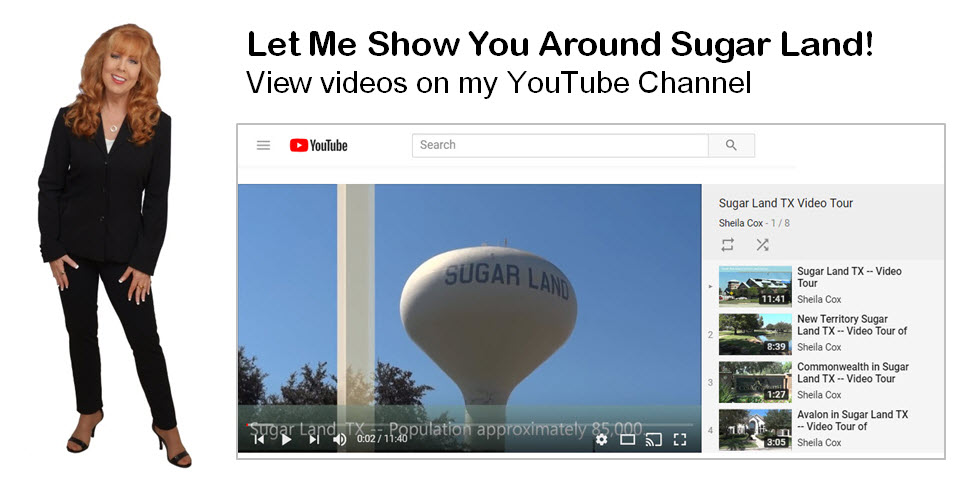 ---
Extended Stay in Sugar Land
Also known as Temporary Housing or Short-Term Housing
If you need extended stay in Sugar Land or Stafford (which is adjacent to Sugar Land), here are some options. These options frequently change, but this should at least get you started.
Extended Stay America Houston – Sugar Land
13420 Southwest Fwy, #59, Sugar Land, TX 77478
(281) 494-6699
---
Extended Stay America Houston – Stafford
4726 Sugar Grove Blvd, Stafford, TX
(281) 240-0025
---
Studio 6 Houston – Stafford/Sugar Land
12827 Southwest Freeway, Stafford, TX, 77477 
(281) 240-6900
---
Aplus Furnished Homes
2018 Winged Foot Dr Missouri City, TX 77459
Brittany
(281) 416-2700
---
(866) 279-5094
---