Lake Pointe Homes for Sale Showcase
---
View all Lake Pointe Homes for Sale with Map
---
QUICK SEARCH
---
Didn't Find What You're Looking For?
Get a custom list of the best homes for sale that meet your
Yes, I know you can search for homes on the Internet on your own, but no online searches available to the general public–including HAR, Trulia, Zillow–none of them will allow you to do the complicated searches that I can perform with my custom home search. I can filter out subdivisions that are prone to flooding, while targeting the exact schools that you prefer. Why waste time looking at homes that you won't buy? I can target the exact areas and homes that may be perfect for you.
"Helping you find the perfect place to call home in Sugar Land TX"
---
Description
Lake Pointe homes for sale are located in the heart of Sugar Land TX, nestled along Oyster Creek, so waterfront homes are available. Primarily built between 2006 and 2017, there is a mix of single-family homes, townhomes, and Brownstones in this neighborhood, and some sections are gated.
Lake Pointe homes for sale are conveniently located within walking distance of several fine dining restaurants, premier retailers, hospital or healthcare facilities, and recreational amenities. There is a swimming pool and some walking trails and since it is part of the First Colony HOA, residents have access to a wide-range of amenities (see list and map).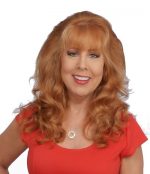 What I Like About Lake Pointe…
"Lake Pointe has newer, beautiful homes that are energy efficient. Plus it is zoned to some high-performing Fort Bend ISD schools!"
—Sheila Cox, REALTOR® and the Sugar Land local area expert
Location
Here's a map of Lake Pointe homes for sale.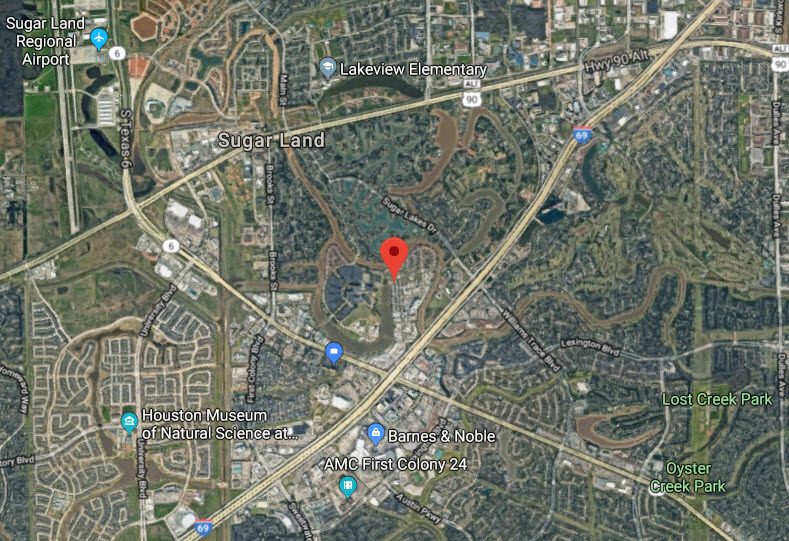 Commute Times
The best way to estimate your commute time is to use Google Maps at the time you commute. Simply enter your work address and the address of the house you are interested in, and Google Maps will estimate your commute time. This time is based on the actual time you perform the search, so use it during your expected commute times.
Click here to estimate your commute time
Pros and Cons
Here is a list of the PROs and CONs of Lake Pointe homes for sale:
| | |
| --- | --- |
| PROs | CONs |
| Zone to high-performing schools | Helicopter noise from nearby hospitals |
| Waterfront homes available | Urban traffic and noise |
| Nearby shopping and restaurants | Limited amenities within the neighborhood, but many available within a short drive |
| Conveniently located to I-59 and Hwy 6 | Many homes are 3-stories, but some have elevators |
| Walkable neighborhood |   |
| Some Green homes available |   |
| Gated homes available |   |
What's Nearby
Lake Pointe is close to:
First Colony Mall
AMC Theatre
Town Square
Whole Food's Market
Constellation Park
Restaurants
Parks and recreation
Farmers Market
Fort Bend Children's Discovery Center
Imperial Market
Smart Financial Center (concert venue)
Schools
The following table shows the schools zoned to Lake Pointe Sugar Land. If you want the current ratings for these schools, please download the Guide to Sugar Land's Best Neighborhoods.
| School | Type | Address |
| --- | --- | --- |
| Highlands Elementary | Elementary | 2022 Colonist Park |
| Dulles Middle | Middle School | 500 Dulles Ave |
| Dulles High School | High School | 550 Dulles Ave |
NOTE:   Schools zones may change, so go to https://www.fortbendisd.com to see up-to-date school zones.
Demographics
You can view the demographics of Dulles Junior High School, zoned to this neighborhood, below. This may give you some idea of the demographics of this neighborhood, but may not be accurate since it located some distance from the neighborhood.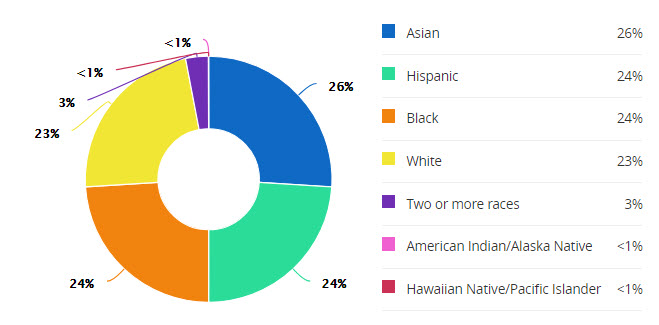 Source: Greatschools.org June 2018
Amenities
Lake Pointe has the following amenities within the neighborhood:
Club House = No
Swimming Pools = 1
Waterpark = No
Splash Pads = No
Tennis Courts = No
Parks/playgrounds = No
Walking Trails = Yes
Lakes = Yes
Golf Course = No
Since it is part of the First Colony HOA, residents have access to a wide-range of amenities within a short driving distance (see list and map).
Home Owner's Association
The annual HOA fee, which pays for the amenities, is approximately $1100-2400 depending on the lot. Go to the First Colony HOA Website or call 281-634-9500 for helpful phone numbers, community documents, and utility information.
Utilities
The utilities for Lake Pointe are shown below:
Utility

Phone

Website

Electricity

Your Choice…go to: www.powertochoose.org

Water

281-870-0585

Inframark

Gas

 800-752-8036

Phone

866-971-9463

800-288-2020

Cable & Internet

800-288-2020

800-776-9993

Trash

713-726-7307

» You can also check for subdivision-specific information with the City of Sugar Land.
Property Taxes
Property taxes in this neighborhood may vary slightly, but are approximately 2.4-2.77 percent as of June 2018.
Home Values
Home values change every month. To get up-to-date information on the market, follow my Sugar Land FaceBook page and download the Guide to Sugar Land's Best Neighborhoods.